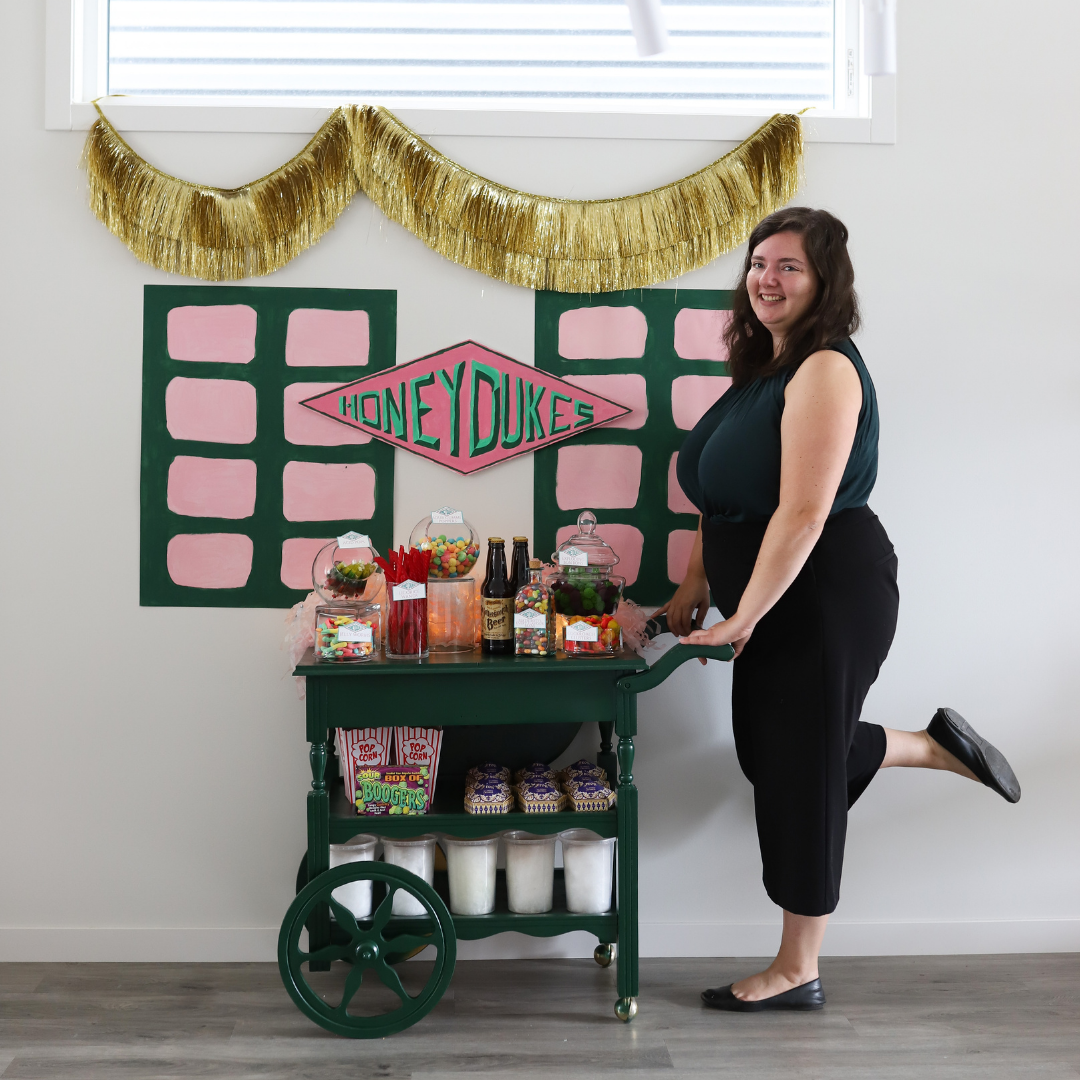 Shop The Shoot: Harry Potter Party with the Dunford Girls!
You've likely seen a couple of the party photoshoots we've done with Laura Dunford and her daughters. We always have so much fun collaborating with them and this Harry Potter themed party was no exception!
Laura found this adorable cart on Facebook Marketplace and painted it a dark green to match. Once she had the setting created, she let us run wild with our imagination and we created a Candy Trolley as close as you could get to one on the Hogwarts' Express! 
Today, we're sharing how we brought this Candy Trolley to life with magical sweets and how you can recreate parts of it for your own Harry Potter themed party. After you're done reading this blog, head over to the Dunford Girls' Instagram Highlights and see how the rest of this magical bash came to be and the other vendors who added their own magical flourish to this celebration!
Straight from Honeydukes to your Home!
We started building this table with the closest stuff we have to the real thing. We're talking Butterbeer, Bertie Bott's Every Flavour Beans, and Chocolate Frogs. We have all these products on our website, ready for you to purchase and have delivered to your doorstep! Click the links below to get taken to each product page. 
Bertie Bott's Every Flavour Beans
Chocolate Frogs: Ours do not come in the boxes you're used to seeing in the films but Laura found a printable that you can print to create your own! It's linked in the product description for you!
Click here to browse our entire Harry Potter Collection!
Magical Candies to Request
To fill out the rest of the cart, we looked through the Harry Potter Wiki and pulled candies that were close to candies mentioned in the books and films. You can request these candies in your order in the Notes to Staff section at checkout. We rotate candies often but will always include them (or something similar) if we have them in stock! If you let us know your theme, we'll pull some other fun things that you're sure to enjoy!
These are the candy names we pulled from the Harry Potter series and the delicious sweets we used to represent them.
Exploding Bon Bons: Munchies. The ones pictured here are grape and apple flavours.
Cockroach Clusters: Gummy Cockroaches. Trust us... we won't get them confused with anything else.
Jelly Worms: Gummy Worms. We used Neon Gummy Worms for an extra pop of colour!
Sour Gummi Poppers: We didn't actually change the name for these! Request Sour Gummi Poppers for a bright, colourful, and delicious candy!
You can request any of these candies in a Candy Bag or CandyGram!
Extra Touches
Not everything could be pulled from our existing CandyGram Candy so we pulled these extras from our Packaged Candy selection to add some finishing touches to the candy selection!
Acid Pops: We use Astro Pops as a dupe for Acid Pops. They're a fun retro candy with a conical shape that feels quirkier than your average lollipop! Click here to get them
Licorice Wands: Red Vines or Twizzlers depending on your preference. We don't always have them in stock but you can grab extra in your local grocery store if needed!
With a couple finishing touches from Laura, we had an amazing Candy Trolley that delighted the young witches and wizards who attended the Harry Potter celebration!
What's your favourite part of the Candy Trolley? Let us know in the comments. 
Thanks again to Laura Dunford for involving us in another fun collaboration! Make sure you head over to the Dunford Girls' Instagram Highlights and check out the other aspects of this party, including the Great Hall, Ollivander's Wand Shop, and a Potions' Class with a questionable professor! 
Want a fun themed candy buffet for your celebration? Shoot an email to candy@sugarcubeyyc.com!