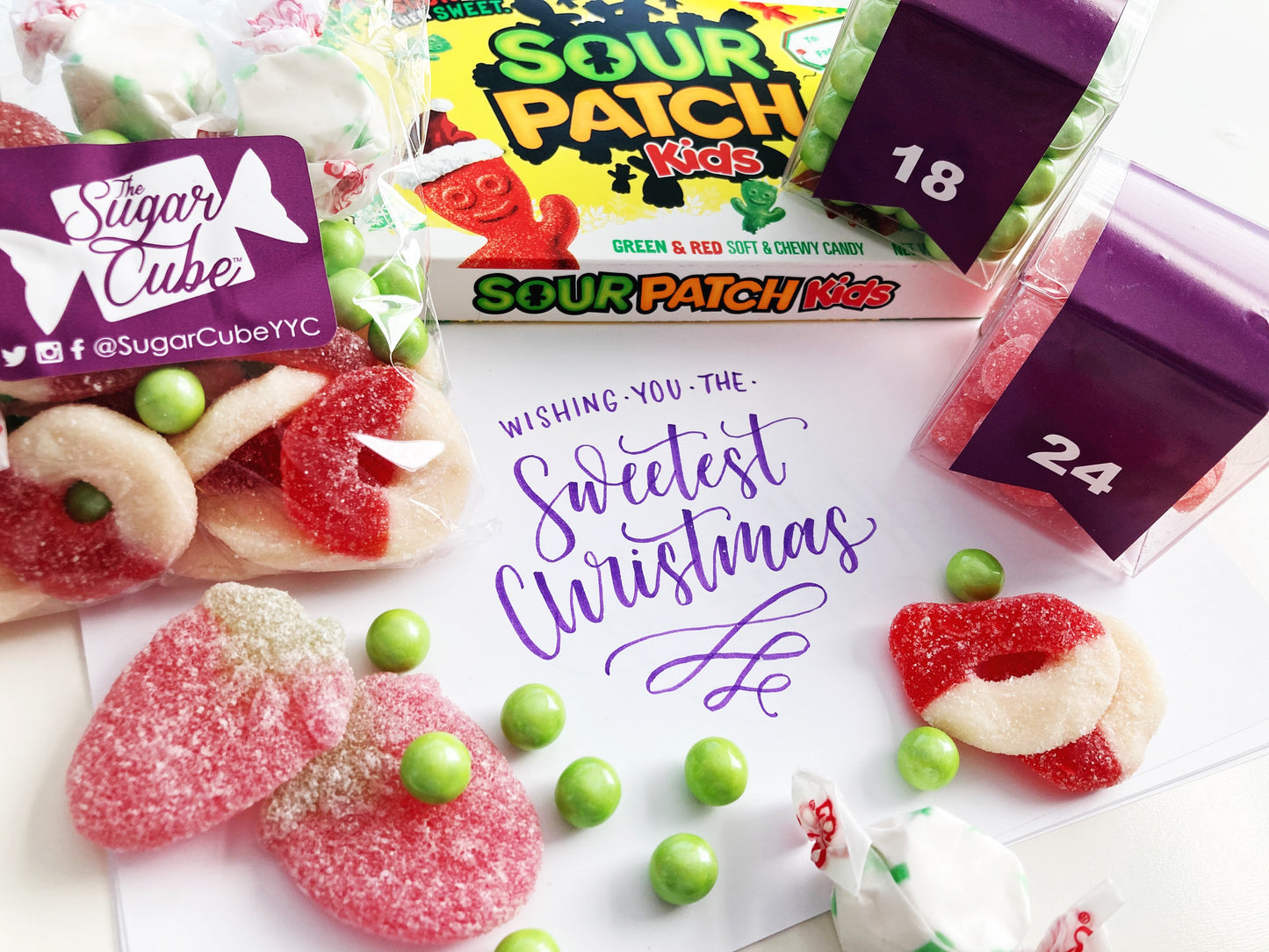 As we've all been staying home more than usual, we're running out of ideas of how to keep entertained (especially the children!). With the cold weather settling in, we will be spending much more time indoors this season. Just in time, we've come up with some sweet activity gifts that you can do together as a family!
Scroll through to see our full list!
Advent Calendars
Our Advent Calendars come with enough candy to share with the entire family, making it a perfect item to pair with other family activities. Combine our candy Advent Calendar with another group activity like watching a TV Christmas Special, reading a story, or doing arts and crafts. 
Click here to order an Advent Calendar before November 30th!
DIY Gingerbread House Kits
A SWEET collaboration between The Sugar Cube and 8 Cakes, these kits come complete with premade gingerbread house pieces to put together, icing (just add water), sprinkles, and lots of candy to decorate. You can share one kit between two kids or grab a couple and have a competition!
We also have gluten free and vegan options available for those with different dietary needs! 
Click here to grab your Gingerbread Kit! Available for order until December 18th!
Sweet Elf on the Shelf Ideas Kit
Want to sweeten up your yearly tradition? Always wanted to join in on the fun but running low on creativity? Here's the perfect item to kickstart your adventures with Elf on the Shelf! We give you 10 sweet treats with prompts on how to stage them PLUS 15 more of our favourite ideas for things your Elf could get up to each day in December leading up to Christmas!
*Elf not included
Click here to get in on the fun with our Elf on the Shelf Sweet Treat Package. 
Spread the Cheer
Teach your children the importance of thinking of others this winter! Have them write a sweet note to go along with each of the 20 bags. Then have them surprise neighbours, family, friends, or community workers with a delicious treat and note. This is a great opportunity to reinforce that this is a season for giving!
Click here to order the Spread The Cheer Package.
Join the Candy Club!
A family activity that you can keep looking forward to every month! When you join the Candy Club, you get a box of candy every month packed with the latest and greatest sweet treats. Try new candies like spicy mangoes and rootbeer bottles while also getting your favourite goodies.
PLUS, each box comes with its own secret theme: can you figure out what it is each month? 
Click here to join the Candy Club!
Kids Quarantine Christmas Activity Kit
This box set has a bunch of activities to keep your kids entertained every weekend until Christmas. Full product details coming soon!
Click here to join our email list and be the first to know when new products are released!
What activities do you enjoy doing with your family during the holiday season? Let us know in the comments below!