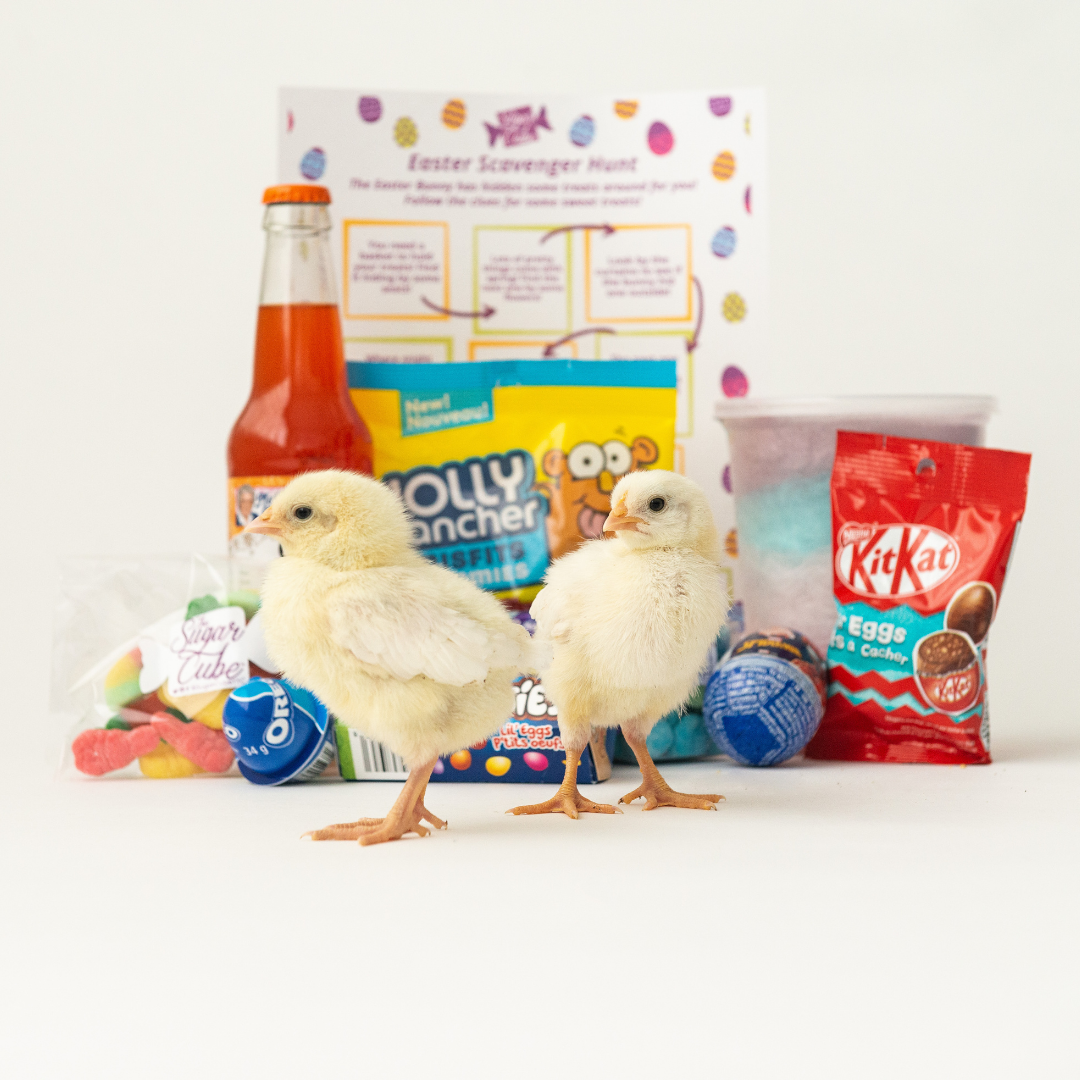 Sweet Activities for a Hoppy Easter!
Tis the season for mini eggs and teaching your kids to eat candy they found on the ground in your backyard! We've stocked up on lots of fun Easter treats for you and your family to share - or keep to yourself. 
You can check out our entire Easter Collection at the link HERE but scroll down for some of our team's favourites that will make your Easter weekend even SWEETER!
This basket comes with a Carrot Cake soda, special Easter Cotton Candy Tub, fun Easter-themed candies, and some of our other favourite treats! You'll also find a colouring sheet with your child's name from The Oak Village and Three Egg Shaped Crayons from Calgary Crayons. 
Please add the name of the person receiving the basket in the Staff Notes section at checkout to have the name added to the colouring page!
This is an item for Pre-Order until March 19 and will be available for local delivery or pickup the week of March 29. If you place other items with your order, your entire order will be deferred until March 31.
Our friends at Grow and Co have created the cutest Easter Gift Set that will become a treasured keepsake for years to come. Each set comes with a personalized Easter Bunny Gift tag with 3D bunny tail, a personalized tic tac toe game and a 400g candy carrot from THE SUGAR CUBE! (so you know it's good!)
Click here to see Grow and Co's Easter Gift Set!
Save the issue of having Easter Eggs go forgotten in the garden and found by critters the next day! Complete with fun riddles and delicious treats, all you have to do is hide each treat in their designated place and let your kids have a fun adventure searching!
Each Scavenger Hunt comes with...
- One of our Easter Cotton Candy Tubs
- A 100g Candy Bag
- A Baby CandyGram
- A Weird Soda Bottle
...And 6 more delicious treats! As well as a printed copy of our Easter Scavenger Hunt.
Click here to see our Easter Scavenger Hunt
This DIY Wreath Kit will make for a fun afternoon of creating this beautiful wreath and putting it up for display! Better yet, it's also part of our EGG My House Fundraiser, so you'll be supporting a great cause!
We are raising funds to help support Robin Milne and her two young children, Isla (6 years old) and Lochlan (4 years old) as they deal with her battling Stage 4 terminal metastatic cancer. You can learn more about the fundraiser and how you can support at the link below!
Click here to learn more about Catherina Loves Petal's DIY Wreath Kit and the EGG My House Fundraiser!
There's no need to keep all the Easter fun to your own house! This special 'Spread the Hop- Candy Bag Package' comes with whatever amount of our $3 Easter Themed Candy Bags you'd like.... so you can spread some Easter joy to those around you (and keep some for yourself maybe!).
They are great for you to have on hand to give to:
- Front line workers at the hospitals risking their lives for us 
- Grocery store workers who are working around the clock
- Delivery drivers who are getting us all the things we need
- Neighbours who might need a little pick me up
- Anyone that you might think is feeling lonely right now!
Click to see our Spread The Hop - Candy Bag Package here!