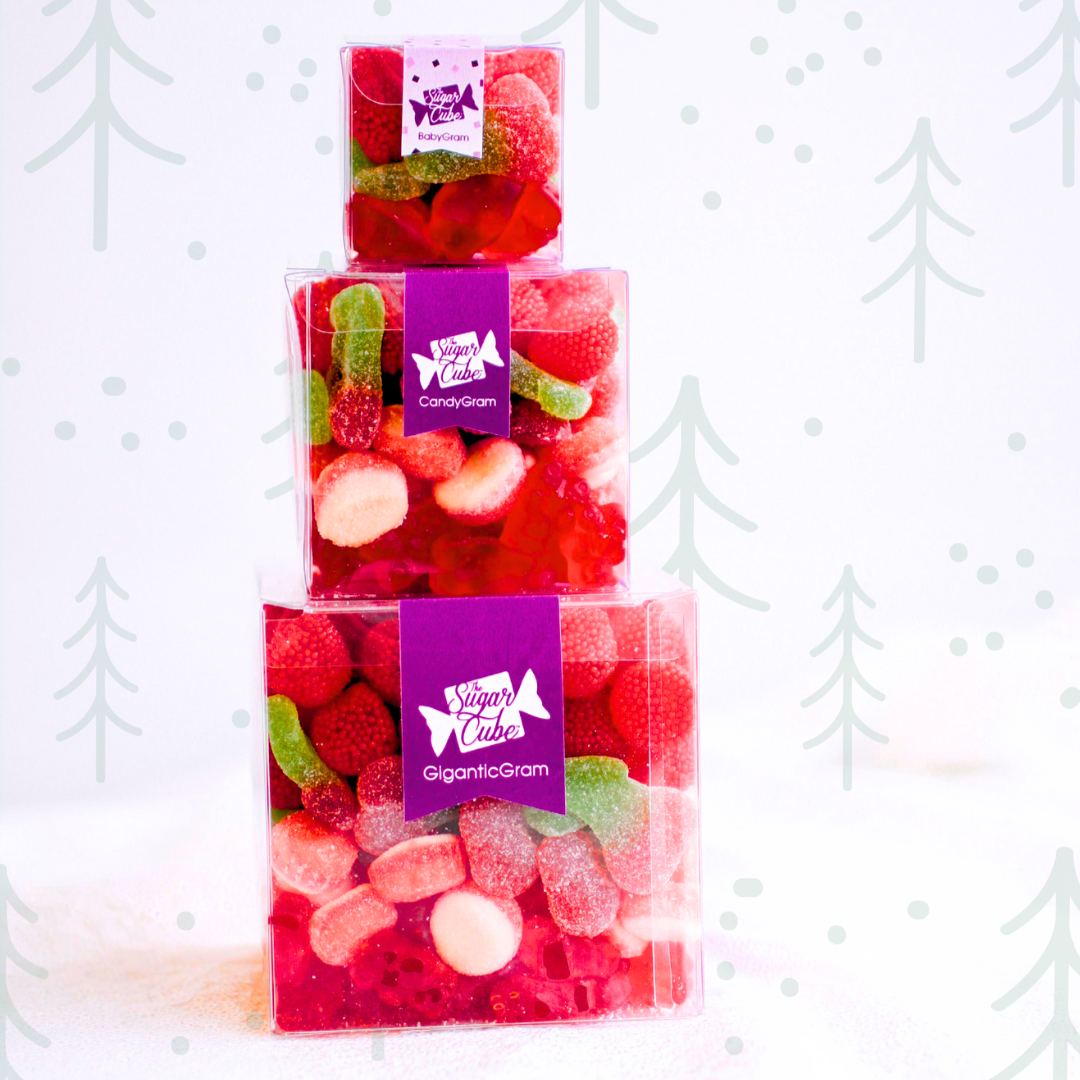 Unwrap the Magic: Beyond the Tree with 5 Of Our Christmas Candy Gifts
The holiday season is not just about what lies beneath the twinkling lights of your Christmas tree or the sweet surprises stuffed in the stockings. It's a time of year sprinkled with merry moments and core memories that deserve to be celebrated. So, let's unwrap the magic of 5 of our Christmas Candy Gifts and discover how they can sweeten more than just the traditional gift-giving moments.
The Countdown Commences with Candy Advent Calendars
Advent calendars aren't just for marking the days; they create anticipation and joy. With our much anticipated Candy Advent Calendars, you're gifting a treat and a daily festive ritual. Whether for the office Secret Santa gift exchange, where the "secret" is the daily delight each candy brings or as a charming welcome home gift from a realtor, each cube opens up to a shared smile, now that's a tradition worth starting.

Check Them Out Here!
Candy Bags that Spread More Than Cheer
Our 'Spread the Cheer' Christmas-themed candy Bags are little ambassadors of happiness, perfect for any occasion. Picture this: at your next holiday potluck, bring these sweet bags to the table instead of the usual dessert and watch the room light up. For every corporate workshop or team-building event, let these be the takeaway that says team spirit and holiday joy, all wrapped in one. And with each purchase giving back to charity, you're not just sharing candies; you're sharing goodwill.
Stacks of Joy with Christmas CandyGrams
Imagine the look on your colleagues' faces when the White Elephant gift turns out to be our Christmas Stacked CandyGram. Far from being the gag gift, this stack of sweets becomes the unexpected hit everyone hopes to steal. But let's take it further: as a centrepiece for your holiday brunch, it's a conversation starter and a dessert tower ready for sharing. Who knew candy could be so versatile?
Winter Cotton Candy Tubs: The Toast of Stocking Stuffers
Stocking stuffers? Done. But why stop there? Our Winter Cotton Candy Tubs in limited-edition holiday flavours are the perfect plus-one for your festive movie nights, adding a twist to the popcorn routine. Hosting a holiday cocktail party? Pair them with drinks for a unique cotton candy garnish that melts into a flavour explosion. These flavours, from Gingerbread to Spiced Chai, are the toast of any winter occasion.
Gingerbread House Kits: The Foundation of Festive Fun
A Gingerbread House Kit is a fantastic gift for kids, but let's think bigger. Use it as the sweetest team-building challenge during the holiday office party. Make it a centrepiece for your next get-together, and watch families bond over candy shingles and icing. And for those looking for a holiday date night with a twist, what's more romantic than building a sweet home together? Love, laughter, and gingerbread are the trifecta of holiday joy.
Ultimately, these Christmas treats are more than just gifts; they're experiences waiting to be savoured. So, think outside the gift box as you plan your holiday calendar. These treats are your ticket to making any occasion sweeter and any moment a memory.
🎄

We wish you a season filled with sweetness and cheer!